A die set is a unit component constituted from a punch holder, a die holder, a guide post, and a guide bush.

Die sets are used for maintaining correct relationship between the top die and the bottom die as shown in Fig. 1.
If we consider the relationship between the punch and the die when the top die is taken to be a punch and the bottom die is taken to be a die, the relationship between the punch and the die is maintained by being conveyed by the dowel pin (knock pin) to the guide of the die set (see Fig. 1).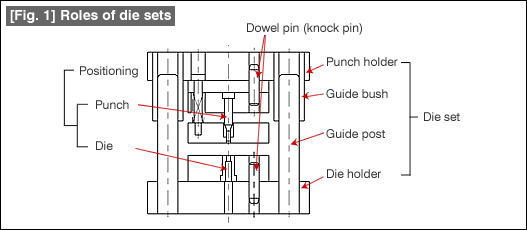 There are four forms of die sets as shown in Fig. 2.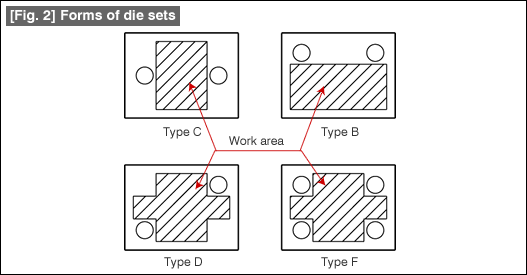 Type C (center post) is suitable when the center of gravity of the die is at the center, and work can be done at its front and back. This type is used frequently for one shot forming such as blanking, hole punching, bending, etc.

Since the right, left, and front are free in the case of the type B (back post), this is a die set with a structure that is easy to use in one shot operations. In addition, in robot operations, since there is no obstruction to the passage of the feed bar or the arm, etc., this type is used frequently for such dies. The drawback of this is that since heavy parts are supported on one side only, the front tends to droop which can be a problem in terms of accuracy.

Type D (diagonal post) is a structure that is used frequently in automated types such as continuous feeding type dies that are relatively small.

Type F (four posts) offers the highest reliability of the accuracy of dies because the guides are placed on four corners. On the other hand, since the posts can become obstructions, the ease of working is decreased in dies for one shot type production, Therefore, this type can be said to be suitable for continuous feed type dies.
The forms of guides shown in Fig. 3 are the main ones.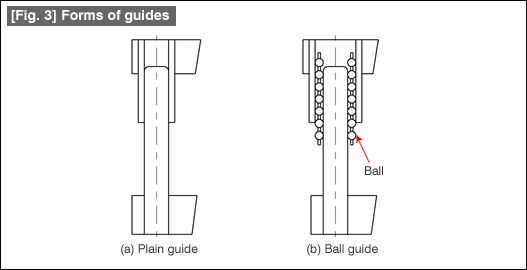 Although plain guides or ball guides are used in small die sets, mostly ball guides are used in large die sets because of the force required for working. This trend is due to the desire to make the movements smooth with weak forces.

Plain guides are superior in terms of accuracy. Ball guides are weak against pressure from the side. Recently, roller type guides have also appeared because of the desire to make smooth movements and also to have rigidity.